Questions after an assessment? Let TrustedSec be your guide.
Decision Making
Remediation Assistance & Training
Security Remediation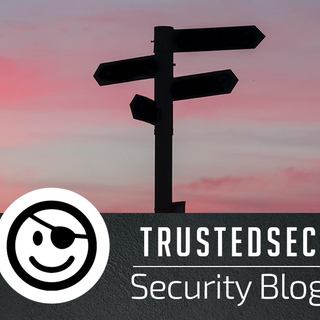 Are you having trouble remediating your penetration test findings? It might be time to get some help from TrustedSec.
After TrustedSec consultants complete security assessments, clients will often ask us to re-test the specific findings from the last test. But in many instances, those same problems exist—sometimes they are exactly the same, but other times, they manifest as different symptoms of the same challenge. Here are a few quick tips to avoid testing the same vulnerabilities over and over.
Ask Questions…It's Free!
At TrustedSec, we are always willing to hop on a phone call, answer any questions, or offer advice. Security has gotten very complicated and no one person knows everything about security and compliance—it's simply too much. Thus, it can be tremendously helpful to run an idea or issue past someone who has been there or helped others with the same situation. Sometimes a little nugget of information can really save you.
Look at 'Blue Team' or Program Improvement Services
While most frameworks and regulations emphasize testing and auditing the environment for failings, they typically don't assist with improving the processes, procedures, and effectiveness of technologies to enable a better program. Over the last several years, we have seen several companies address issues in greater depth to leapfrog advancement in tactical areas, including:
Get Some Remediation Support
Addressing the findings from penetration tests or other assessments often appear to require straightforward changes. However, there can be underlying issues that prevent the change from taking place or there can be unexpected consequences of making the change. TrustedSec's experience helps these remediation items get resolved effectively and efficiently. Leverage our team as a force multiplier to help implement multi-factor authentication (MFA), appropriately harden systems, and correctly use the security features in Office 365.
With the right help at the right time, you can fast forward your program and secure at least part of the environment to reduce security gaps. Most remediation engagements take between one and three weeks and do not have to kill your budget.
Seek Feedback and Answers From Peers
TrustedSec recently rolled out a forum on Slack that covers many different topics—red teams, tool-talk, incident response, governance, risk, and compliance (GRC), and even some off-topic areas if you need a diversion. Further, we host ask me anything (AMA) sessions periodically for immediate feedback and discussion. Not only are TrustedSec experts available, but other infosec folks from various organizations contribute their own tips and tricks. The tremendous outpouring of knowledge and active participation have resulted in an informative back-and-forth of ideas and solutions.
Avoid Overwhelm
There is so much to security and compliance that there is no way one person can know it all. And with all of the news of breaches, it can seem like you'll never get ahead of it. Having an extension of your team can truly make a difference.
With the vast array of tools, exploits, and external challenges out there, getting help with security and compliance is more important than ever. We're all in this together, so take a first step today! The folks at TrustedSec are here to assist in any way we can.