Project Management and Expert Knowledge Help Client Meet PCI Compliance with Less Stress
After a series of productive conversations, TrustedSec was engaged to perform a PCI Readiness Assessment in order to uncover any PCI compliance gaps. Our consultant met with stakeholders from the organization to gain an understanding of how TrustedSec could most effectively serve the organization's project management needs and more effectively meet deadlines without undue stress on the team.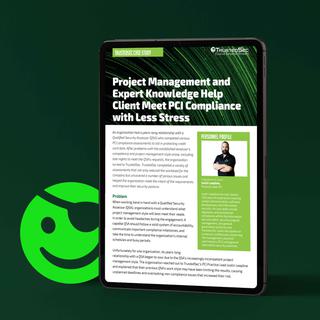 An organization had a years-long relationship with a Qualified Security Assessor (QSA) who completed various PCI compliance assessments to aid in protecting credit card data. After problems with the established assessor's competence and project management style arose, including late nights to meet the QSA's requests, the organization turned to TrustedSec. TrustedSec completed a variety of assessments that not only reduced the workload for the company but uncovered a number of serious issues and helped the organization meet the intent of the requirements and improve their security posture.
SERVICES
PCI Readiness Assessment
Remediation Services
BENEFITS
Achieved Compliance
Reduced Scope
Streamlined Project Management Processes