Improving Security in a Conglomerate Leveraging Strengths and Best Practices from Corporate to Subsidiaries
TrustedSec was able to provide a strategy and roadmap for developing a robust security posture throughout the entire company. The team united the findings, recommendations, and plans into themes, trends, and issues that pertained to the entire company, effectively reducing costs and complexity.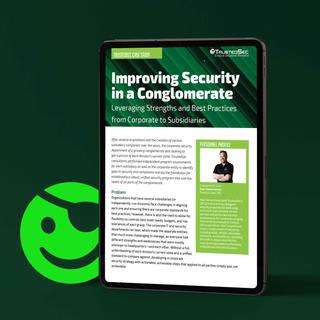 After several acquisitions and the creation of various subsidiary companies over the years, the corporate security department of a growing conglomerate was looking to get a picture of each division's current state. TrustedSec consultants performed independent program assessments for each subsidiary as well as the corporate entity to identify gaps in security and compliance and lay the foundation for establishing a robust, unified security program that met the needs of all parts of the conglomerate.
SERVICES
Program Assessment
Remediation Services
BENEFITS
Developed security roadmap
Remediation
Reduced security program complexity and cost
Increase organizational security buy-in