Creating a More Holistic Security Program by Addressing Adversary Tactics and Techniques
A global company was looking for cutting-edge insights over and above traditional security assessments. While there is tremendous value in security program maturity reviews and penetration testing activities, reviewing the range of adversary tactics and techniques helped develop more robust analytics, increased tool coverage, saved money, and allowed the organization to better detect and respond to adversary behaviors.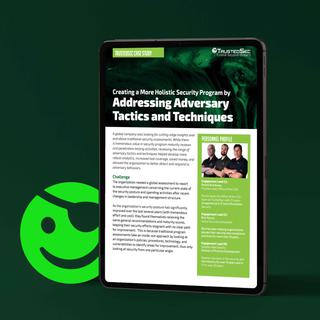 The organization needed a global assessment to report to executive management concerning the current state of the security posture and spending activities after recent changes in leadership and management structure.
As the organization's security posture had significantly improved over the last several years (with tremendous effort and cost), they found themselves receiving the same general recommendations and maturity scores, keeping their security efforts stagnant with no clear path for improvement. This is because traditional program assessments take an inside-out approach by looking at an organization's policies, procedures, technology, and vulnerabilities to identify areas for improvement, thus only looking at security from one particular angle.
SERVICES
Program Maturity
Control Maturity
OpSec Performance
Attack Path Effectiveness
BENEFITS
Reduced the likelihood of adversary success
Prioritized control investments and resources
Aligned budget to bridge gaps in control coverage
Reduced spending on redundant tool capabilities