Calming the Sea Amid Change: Collaborative Testing Keeps Acquisition Smooth
A retailer contracted TrustedSec to conduct due diligence of a company it was set to acquire. Despite having been tested earlier in the year by a different security consulting firm, the child company was found to be rife with critical vulnerabilities that were missed by the initial assessment. Using the collective knowledge of TrustedSec consultants' expertise, the parent company was able to better understand (and remediate) the risk it was inheriting before it caused problems.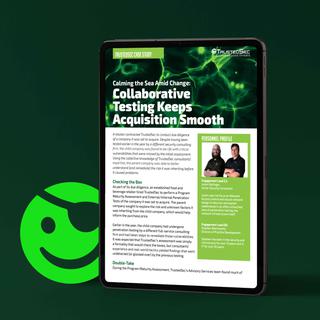 As part of its due diligence, an established food and beverage retailer hired TrustedSec to perform a Program Maturity Assessment and External/Internal Penetration Tests of the company it was set to acquire. The parent company sought to explore the risk and unknown factors it was inheriting from the child company, which would help inform the purchase price.
Earlier in the year, the child company had undergone penetration testing by a different full-service consulting firm and had taken steps to remediate those vulnerabilities. It was expected that TrustedSec's assessment was simply a formality that would check the boxes, but consultants' experience and real-world tactics yielded findings that went undetected (or glossed over) by the previous testing.
SERVICES
Mergers and Acquisition Assessment
Penetration Testing
Remediation
Program Maturity Assessment
BENEFITS
Uncovered new vulnerabilities
Validated previous findings
Provided more information to aid merger process