Balancing IAM-Related Business and Security Requirements that Satisfy Leadership
A large company contracted TrustedSec to perform a penetration test to evaluate the security of network infrastructure. Upon review of the technical report findings, the client partnered with TrustedSec again to develop the framework required to successfully implement the desired Identity and Access Management (IAM) process and further mature their Information Security program.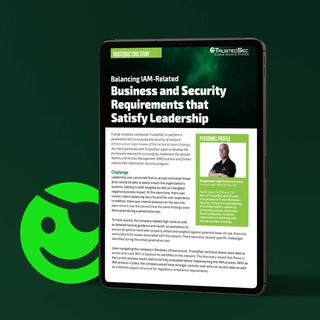 Leadership was concerned that an actual motivated threat actor would be able to easily breach the organization's systems, leading to both tangible as well as intangible negative business impact. At the same time, there was concern about balancing security and the user experience. In addition, there was intense pressure on the security team since it was the second time the same findings were discovered during a penetration test.
SERVICES
Multi-Factor Authentication (MFA) Implementation
Privileged Account Information Storage (PAIS) Review
Identification of Insufficient Password Policies and Account Controls
Privileged Account Management (PAM) Process Deployment
BENEFITS
Requirements prioritization
Balanced business and security requirements with user experience and productivity
Ensured critical security findings were addresses quickly and professionally