Providing cybersecurity for the Cleveland Cavaliers
We are proud to be named the Official Cybersecurity Partner for the Cavs!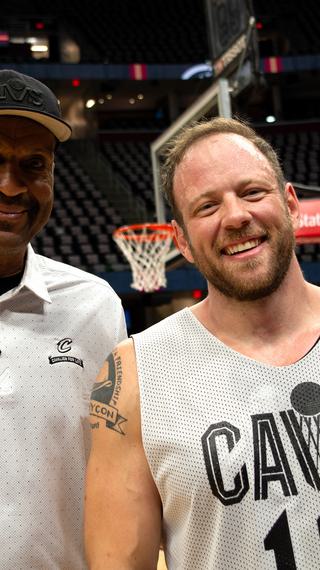 The Official Cybersecurity Provider for the
Cleveland Cavaliers
TrustedSec Named the Official Cybersecurity Partner of the Cleveland Cavaliers
The Cleveland Cavaliers named TrustedSec, a leading information security company, as the team's "Official Cybersecurity Partner." The partnership, which was established in 2019, adds a robust extra layer of protection for fans who visit Rocket Mortgage FieldHouse and engage with its FREE Wi-Fi and local area network, as well as the Cavs online and digital ecosystem that includes 11 web properties and two mobile apps.
TrustedSec, locally based in Fairlawn, Ohio provides cybersecurity testing, hacking simulations, security audits and other services to help companies worldwide stay up-to-date on the latest digital threats. Their consulting team, led by CEO and Founder, Dave Kennedy, a Cleveland native, is made up of professional hackers, vulnerability researchers and threat advisors who specialize in cyber-attack simulation and risk management to enhance the security posture of organizations around the globe. TrustedSec has been featured on CNBC, CNN, Fox News, MSNBC and WIRED Magazine among others, providing insight for cybersecurity and data privacy protection.
"The importance of cybersecurity cannot be understated and through our partnership with TrustedSec, the arena's Wi-Fi, local area network and Cavs web properties are being tested and protected by some of the best and brightest cybersecurity consultants in the world," said Mike Conley, Cavs CIO. "We're confident that the abilities of our in-house IT team combined with the expertise of TrustedSec, our fan's personal information and online integrity is safe and secure when connected with our network and online properties."
"This is a true partnership in every sense of the word," said Dave Kennedy, Founder and CEO of TrustedSec. "We will work closely with Cavs leadership and IT team to protect their fans online and build up a top-notch cybersecurity program which other NBA teams can follow. We applaud the Cavs for their proactive stance on cybersecurity and the protection of their fans. We are proud to team up with our hometown Cavs and look forward to a great relationship for many years to come."
As the "Official Cybersecurity Partner of the Cleveland Cavaliers," the partnership will touch every corner of the Cavs enterprise, showcasing the TrustedSec brand to diverse audiences on a local, national and international level. This includes the TrustedSec logo featured on both the Cleveland Monsters (AHL) helmet and the Cavs Legion Gaming Club (2KL) practice jersey.