Press Release - TrustedSec Launches Impede
Impede is the industry's most advanced detection engineering solution, providing organizations with cutting-edge insights on attacker techniques and new/emerging threats.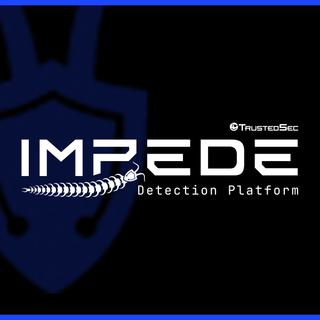 TrustedSec Launches Impede – A New Detection Engineering Platform
TrustedSec, a globally recognized cybersecurity and adversary simulation company advising Fortune 500s and governments, today announced the beta launch of the Impede Detection Platform.
Impede is the industry's most advanced detection engineering solution, providing organizations with cutting-edge insights on attacker techniques and new/emerging threats. By incorporating Impede into their SIEM workflows, organizations can stay ahead of new attack methods to significantly enhance their current cyber defenses and reduce the risk of compromise.
"Threat actors are constantly evolving their attack capabilities, and these changes in tactics and techniques can pose major challenges to even the best-run cybersecurity programs," said David Kennedy, founder and CEO of TrustedSec. "It's absolutely critical for organizations to stay on top of the latest attacker techniques and that's why we've created Impede – to offer all companies an easy and effective way to manage these evolving attacks, through a single robust platform that is constantly tracking and updating with the latest attacker techniques. With Impede, any organization, regardless of size, can have its own detection engineering team or augment an existing team with some of the best detections out there."
Detection engineering is a critical aspect of cybersecurity that focuses on identifying and responding to security threats. Cybersecurity threats are constantly evolving, with new attack methods and techniques being developed all the time. Keeping up with these new techniques and creating high-fidelity detections for them is a major challenge.
Impede is revolutionizing the way businesses handle detection engineering. The platform provides organizations with a large repository of attack techniques and proprietary detections so that security teams can complement their existing tools and fortify their defenses against an ever-evolving threat landscape. By using Impede, organizations can gain a decisive edge on attacker techniques while also having insight into the detection methodology and rules needed to create high-fidelity detections within their current security stack. Impede also alleviates many of the pain points associated with managing detection engineering in-house.
Key features of Impede include:
Rapid Threat Detection Engineering
Attack Validation Commands
Seamless Translation to Popular SIEMs
User Comment and Sharing
Validated Sigma Detections
Attack Simulation Sandbox
Event Log Telemetry Downloads
Impede also offers an isolated sandbox environment where users can run attacks directly within the platform and download the logs and events from the victim machine. This feature provides a secure way for security teams to test their detection methods without compromising their systems. Moreover, Impede comes with a Community feature that allows any user to add detections. This provides an excellent opportunity to collaborate and seek help from the community and TrustedSec consultants. The Community portion of the platform is freely accessible to everyone, making it an ideal starting point for those who want to learn more about threat detection.
Learn more about Impede here, or visit our team at Black Hat and DEF CON.
ABOUT TRUSTEDSEC
TrustedSec is a world leader in cybersecurity program development, cyber attack simulations, incident response and digital forensic investigations. Founded in 2012, the company advises many well-known brands in the technology, financial, healthcare, automotive and manufacturing industries. It also consults for governments and provides training for the US military's Cyber Protection Teams. The company's founder, David Kennedy, is a former hacker for the National Security Agency (NSA) and Marine Corps, where he specialized in signals intelligence and cyber warfare operations. He also served as a technical advisor for The Mr. Robot show on USA Network, and has twice testified before Congress as a cybersecurity expert witness.