From the Desk of the CEO: TrustedSec Announces Professional Training Courses Online
Remediation Assistance & Training
Training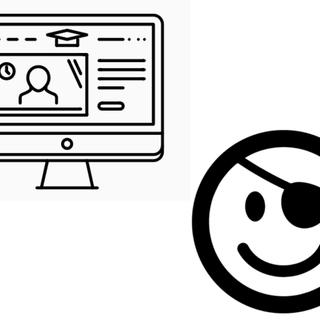 TrustedSec has offered customized, in-person training to our clients for several years. With the need to move toward an online platform, TrustedSec has expanded our cutting edge training to help further educate and develop the Information Security industry. These offerings are designed to be some of the most effective instructor-led and live courses available today. In addition to the instructor-led and live courses, we have also included TrustedSec personnel to help if you are struggling in a specific area.
The goal with our instructor-led courses is to create an environment focused on maximizing the amount of information learned during the course periods, while also ensuring that students come out having accomplished their goals in signing up for the course. For example, our BlackHat training courses are consistently some of the largest courses taught, and every year and our ratings continue to demonstrate the quality and knowledge of our team. We want these courses to be the best available to you.
We will have additional announcements soon on more offerings, however, based on client requests, we are announcing two online courses led by the TrustedSec team.
The first offering will be a four-day course led by Ben Ten and Carlos Perez and will take place May 19-22. The course is called PowerShell for Offense and Defense and is designed to help you improve your individual areas of expertise, either as a penetration tester or as a defender. The course simulates a corporate environment and provides students a hands-on approach to exploits, attacks, and defense.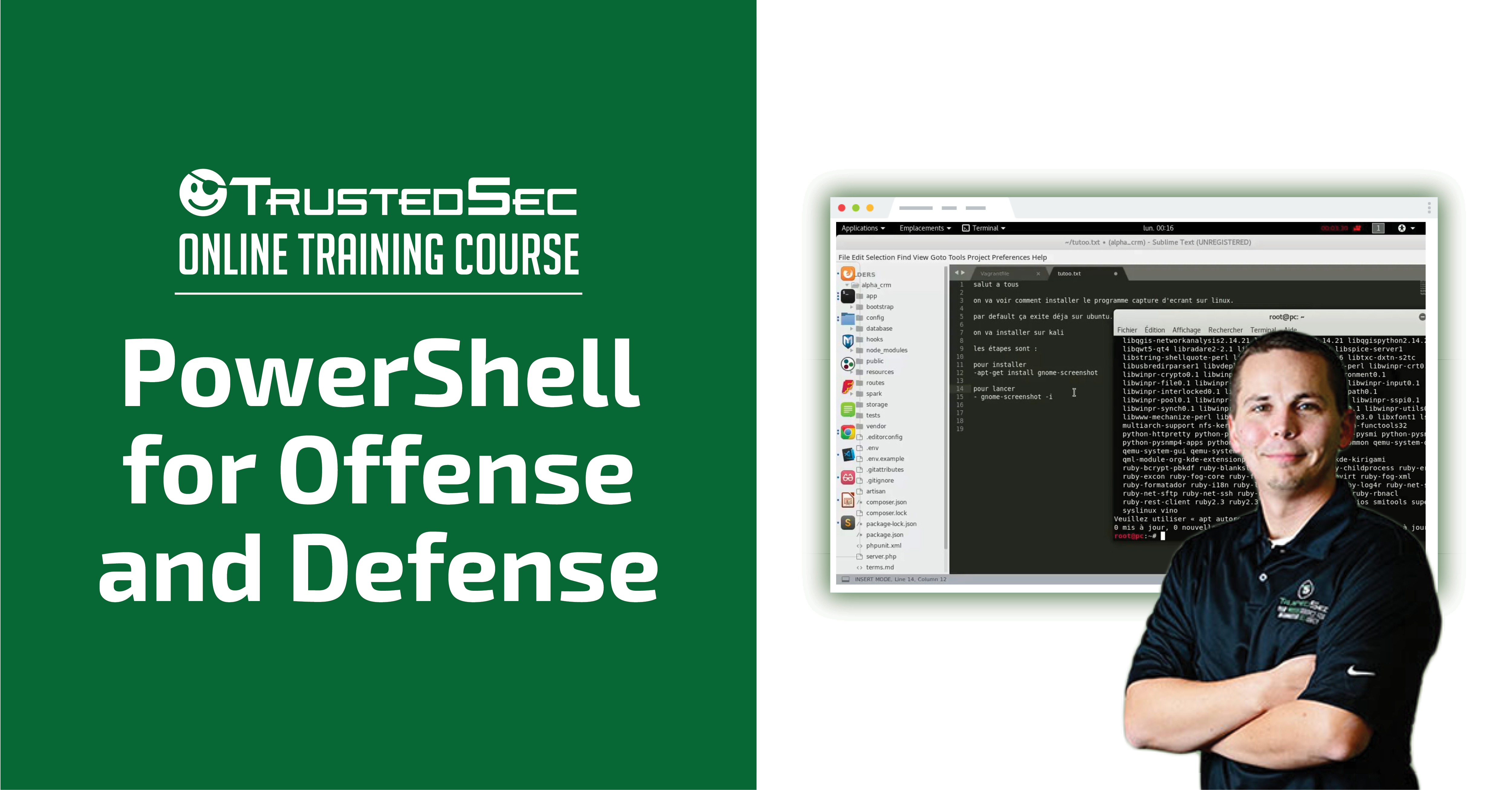 The second course is led by Carlos Perez and is a fully immersive two-day course in Sysmon Fundamentals on May 27 and May 28. TrustedSec recently released one of the most comprehensive datasets on Sysmon (thanks Carlos!). Our goal with this course is to make you an expert in Sysmon - how to deploy it, how to use it, and most importantly, how to incorporate it into your program to improve defense. This course covers a wide arrange of deployments within the enterprise and helps you build your own deployment scenarios and detections.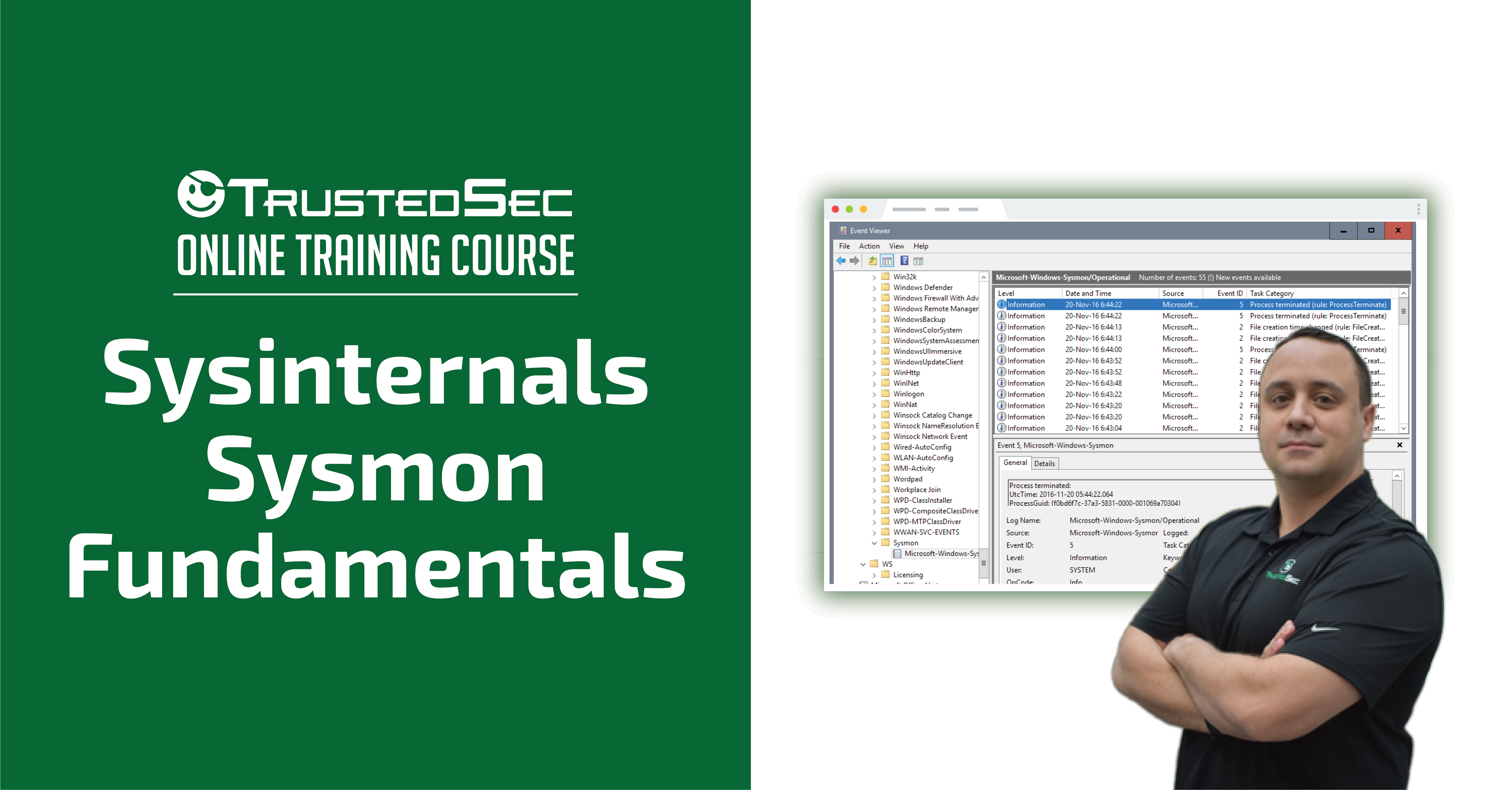 At TrustedSec, we are always trying to provide more knowledge to the Information Security community. These courses are professional, instructor led, and cutting edge. We will be releasing several new training courses online and will be announcing more information soon. Students will receive all of the coursework, presentations, and documentation as part of the course.
We are excited about the release of this online training platform and look forward to helping you develop new skills in the world of Information Security. Come learn from the best in the industry and up your game in knowledge and training.
To register for either course, please visit:

https://www.eventbrite.com/e/powershell-for-offense-and-defenseonline-training-course-tickets-102092441240

https://www.eventbrite.com/e/sysinternals-sysmon-fundamentalsonline-training-course-tickets-102115002722